Atlas Copco - Overseas Incentive Trip
This client company organises a prestigious bi-annual 3-day conference / event for its premier distributors and their respective partners. Each trip is in a different European location with invariably the same guests. Therefore the challenge is to devise a programme that is sufficiently different each time.

The key criteria for the project brief are to:
source a top class hotel


devise and organise excursions and group activities


create a gala dinner with a twist for the final night.
Once the client had chosen Tenerife, the task began to identify venues and build a special programme for the guests. The gala dinner was crucial. We considered dining on the beach, overlooking the beach, at the water's edge, in an inland village, up the mountains. We needed something more quirky… and then we found it. Dinner took place among the trees of a banana plantation and the menu was created for us by the island's favourite chef.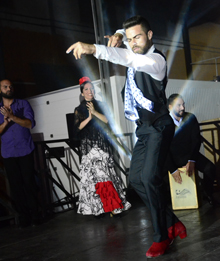 We wanted to surprise the guests with the after dinner entertainment and, with the permission of the owners, we transformed the banana packing shed into a show room.
After dinner, guests suddenly heard the distant throb of thrumming guitars. Sliding open the heavy door of the packing shed revealed a high stage bathed in coloured lights and the fiery Flamenco dancers in full flow. It was a brilliant evening and the clients loved it.